Beauty & Self
Books & Music
Career
Computers
Education
Family
Food & Wine
Health & Fitness
Hobbies & Crafts
Home & Garden
Money
News & Politics
Relationships
Religion & Spirituality
Sports
Travel & Culture
TV & Movies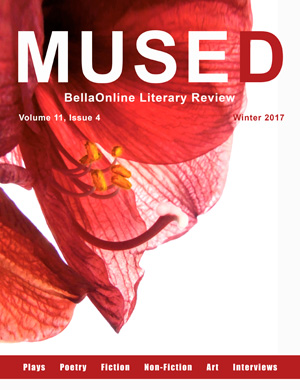 We all travel on this blue-green ball around our very own star each year, sliding a little closer, sliding a bit further away. The balance is critical. Too much closer and we'd roast. Too much further away and we'd freeze.

We should be aware of just how blessed we are that our Earth is "just right" - and do what we can to keep our world healthy. It's the only one we have.

Enjoy the Mused Winter Solstice 2017 Issue



Golden Russet Apple
Landscaping - Connie Krochmal, Editor

The golden russet apple is one of the best known russet apples in America. It has long been a favorite.




Bathrooms, Buses and Elevator Doors
Etiquette - Lisa Plancich, Editor

A surefire way to irritate the person or people on the other side of the door is your failure to yield.




Healthy Breakfast Fruit Pizzas recipe
Cooking for Kids - Kymberly A. Morgan, Editor

This recipe will become your new morning friend! Your kids just might not even realize they are eating healthy with this protein and fruit-rich breakfast!




INTERVIEW 1 Graeme Smith
SF/Fantasy Books - Evelyn Rainey, Editor

First of two interviews with Fantasy Author Graeme Smith of the Dark Circle series.




Shopping in the US is fun
Romantic Getaways - Marianne de Nazareth, Editor

It's fun to shop in the US, especially if you get great deals on branded clothes.




Laundry Room Tips & Tricks
Cleaning - Tammy Judd, Editor

Laundry can be overwhelming to any of us. I have recently been conducting research to find ways to make doing and completing your laundry ever so much easier!


| Google+ |
E D I T O R R E C O M M E N D E D
It´s An Animal´s Life


Shopping is fun at It´s An Animal´s Life. When you´re looking for the perfect animal gift, look no further.
Spirit Beach - Paranormal Romance Novel


When Renee Simone stumbles on the legend of John Henry Covington, the man with the mesmerizing eyes in the ominous portrait at the Covington B & B she and Adrian find out too late that a vampire's lust for love and blood never dies. Fear grows as the gusty sea spray and wind persuasively invites her to a personal audience with a ghost… "I´ve been waiting for you, Renee."
Caillou Goes Back to School DVD


Caillou Goes Back to School DVD is great for kids who are Caillou fans, and other kids who enjoy watching shows that depict family life.