Beauty & Self
Books & Music
Career
Computers
Education
Family
Food & Wine
Health & Fitness
Hobbies & Crafts
Home & Garden
Money
News & Politics
Relationships
Religion & Spirituality
Sports
Travel & Culture
TV & Movies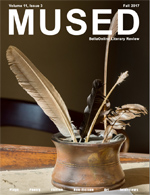 Autumn is a season for counting our blessings. For realizing just how much we have in life where so many others are without. It can often be easy to take things for granted. Things which millions of people desperately dream of having. By pausing for a moment, and looking around with mindfulness, we can find a new center. Begin with fresh energy.

Enjoy the Mused Autumn Equinox 2017 Issue



Curious Minds Book Review
Suspense / Thriller Books - Karen Hancock, Editor

This is the first installment in the hilarious, but also suspenseful Knight and Moon series. Janet Evanovich has teamed up with Phoef Sutton, and the characters and storyline are delightful.




Change for a Better Life
Baptist - Celestine A. Gatley, Editor

Change is hard for most people. We often get stuck in our daily routines day after day. Just the thought of veering off of course can be stressful. Change does not have to be stressful. It is very simple when change is simply stepping into the next stage in your life.




Sinister Severed Head-Loaf Recipe
Quick Cooking - Karen Hancock, Editor

If you're planning to display an edible dead body at your Halloween BOO-ffet, or just a severed head in a chafing dish, this is perfect. While it looks creepy, it is delicious.




Flutterflake - Emma Crew
Tatting - Georgia Seitz, Editor

Over the years I have had a few patterns that I have much admired. They are timeless. This snowflake with butterflies is one of these patterns. It was designed by © Emma Crew, 2001 and much enjoyed by the Online Tatting Class.




Help Slow Down Aging with Exercise
Nutrition - Moss Greene, Editor

Regular physical activity has been proven to slow down aging. So exercise, combined with a healthy diet and lifestyle, can make you look and feel younger.




The Good Doctor
Prime Time TV - Maria Brown, Editor

The Good Doctor is about Dr. Shawn Murphy. Dr. Murphy is an autistic first year surgical resident at the fictional San Jose St. Bonaventure Hospital. In addition to autism, he has been diagnosed with savant syndrome.


| Google+ |
E D I T O R R E C O M M E N D E D
The 500 Worldīs Greatest Golf Holes


This is a great coffee table book with photos and narrative describing some of the best golf holes in the world. Makes a great start for your bucket list of golf courses to visit. Published by Golf Magazine.
True Balance by Sonia Choquette


This terrific guide gives you fun, everyday ideas with which to open and strengthen all seven of your chakra energy-centers, including the third-eye chakra and crown chakra which help you to connect with psychic phenomena and the divine.
From Pain to Parenthood


Follow one womanīs incredible and heartfelt journey from the pain of miscarriages to the joy of becoming a parent through adoption. Filled with honest, raw emotions and helpful coping tips, "From Pain to Parenthood" promises to touch your life with a real story that shows the power of the human spirit and the beauty of a motherīs love.